---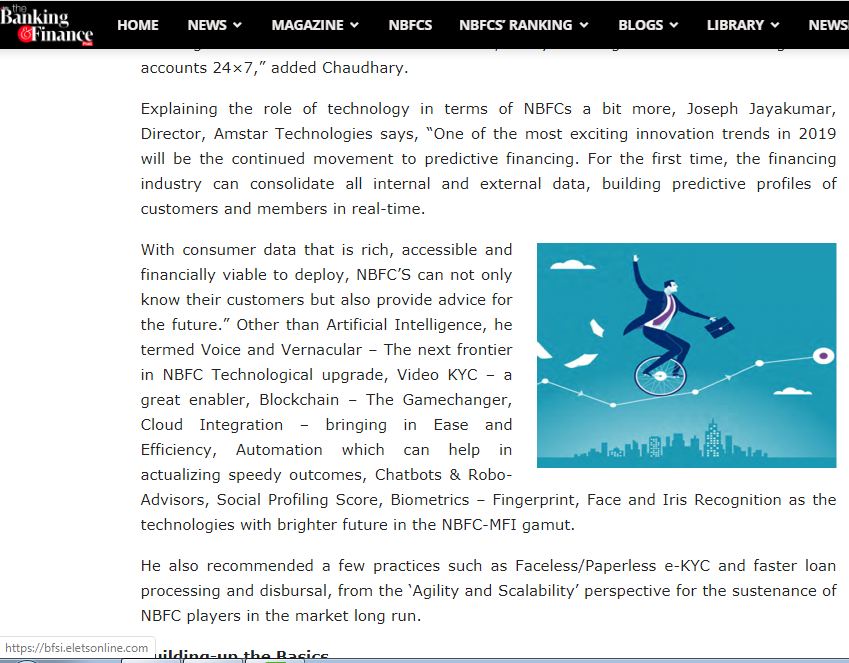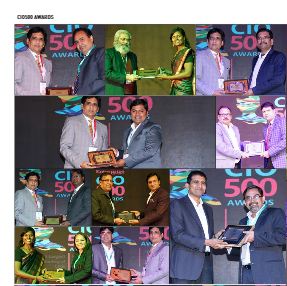 October 31 2019, Bangalore: - Amstar Technologies a pioneer in Enterpriselearning, Recruitment Process Outsourcing i.e. RPO and IT outsourcing from 2005 will be participating at People Matters L&D; Conference in Mumbai this November 2019. This is an event to watch out for on this 700 CHRO's(Chief Human Resource officers) will participated at Grand Hyatt, Mumbai to take back valuable and enriching sessions on learning and development (L&D;), HR from more than 35+ product companies which has more than 45+ speakers.
Amstar's team under the tableadministration of Mr. Joseph Jayakumar a renowned Thought leader and CHRO of Amstar Technologieswill be networking with other eminent thought leaders at the learning and development conclave held by People Matters for which they are much thankful for.
Amstar Technologies also is a top contender for an award submission category namely "Best in Future Tech Skill Building" from more than 450+ contenders. They shall be competing against industry stalwarts like
- Tata Communication
- Bosch India and
- Jayaswal NECO Industries Limited.
It promises to be a huge learning opportunity for us and learn best practices from industry titan, adds Mr. Kalyan B, Learning and Development head, Amstar Technologies.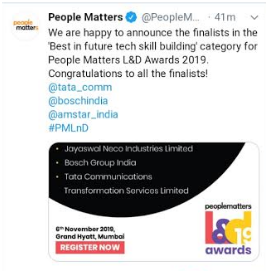 People Matters L&D; Conference promises a lot of learning, unlearning and relearning from HR perspective and how latest technology trends like Block Chain, IOT, Quantum Computing and Devops can ceaselessly assist HR better. We are also aiming to map and augment these offerings exclusively for our customers and how they can use these platforms to develop smart, scalable solutions for future adds Mr. Kalyan B, L& D Head at Amstar Technologies.
While on one hand there promises to be power packed sessions, conclaves on understanding and applying differentiated experiential approaches in applying technology in HR, L&D;, We look forward to the niche networking sessions with mentor sessions and most importantly getting to know the expansion path other veterans has done globally in the L&D; sector adds Mr. Joseph Jayakumar, CHRO, Amstar Technologies. We see India as next leading power player for that operationally and we are gearing up for the exciting journey ahead quips Mr. Kalyan Bodetti, L&D; head of Amstar Technologies a Global Training partner for IBM through Arrow ECS.
Amstar's team looks to keenly network with eminent speakers at People Matters 2019 L& D Conclave which includes think tanks like
1. Gurcharan Das Author, Commentator, Public Intellectual | Former VP & MD, P&G; Worldwide
2. Ravin Jesuthasan CFA, Author and Managing Director Willis Towers Watson
3. Sudakshina Bhattacharya CHRO IL&FS; Group
4. Shantanu Bhattacharya, Head - People, Leadership & Capability Develop., Tata Service
5. Dr. Swatee Sarangi, Head - Capability Development, Corporate HR, Larsen & Toubro
6. Raghav Gupta, Managing Director - India & APAC, Coursera
As HR, L&D; sector is implementing aggressive revamp modes to reskill/reassess their employees globally it is about how people have an inherent competency to work across platforms at ease. To help them in this navigational process we strive to provide the much needed "Connect the Dots" mapping programmes for candidates to refine their skills, share ideas globally and motivate/mentor each other globally exclusively via our 'Experiential Reskilling Programmes' opines Mr. Jayakumar CHRO, Amstar Technologies, Bangalore.
Amstar Technologies having trained more than 3600+ customers globally across technology platforms supports People Matters conference of the L&D; gamut as a brand advocate principle. This makes the learning and development manager; CHRO a very important influencer in the way technology is being adopted and consumed in the HR ecosystem.
Being the end user HR can build a lot of practical use patterns or application connecting dots from perspective where Amstar sees a lot of untapped potential both in the present and future technological context and looks forward to be at the conclave.
Amstar Technologies is located at near Electronic City, Kudlu Gate Signal, Bangalore 560068 and can be reached by phone at +91-80-42242249 or via email at [email protected]
About People Matters:- People Matters is a new-age, niche media organization with a vision to be a pivotal thought leader in the arena of people and work. We focus on providing the world of talent and work with a plethora of insights that enable talent professionals to have an intellectual point of view and the ability to make decisions that create a big impact. We bring the talent fraternity abreast with new ideas, trends, technological innovations, expert viewpoints and new pathways that raise its collective consciousness and help in finding all the answers pertinent to people and work. And, we believe, that when talent professionals have all the answers, they themselves become the answer to the questions and challenges the world of talent faces from time to time. We also believe that only when thoughts translate into actions that impacts are delivered and the real difference is made. This is the understanding that helps us to provide talent professionals with insights and a knowledge base that fuels them to not only develop better viewpoints but also, execute better. It is this understanding that makes us what we are, the nerve center of people and work. Today, this has made People Matters become the largest digital community in Asia. Be it the rich industry-specific content or the custom events that let you rub shoulders with an eclectic mix of intelligentsia from around the globe, People Matters emits, directs and controls the flow of information that makes transformative action possible. The proof of this is People Matters TechHR which we host. Ready with its seventh edition now, it is the largest and most coveted HR technology conference in the whole of Asia. We architect learning experiences and offer high-quality media products by leveraging our presence across mediums like digital, print and physical initiatives.
About Amstar Technologies:-
Amstar Technologies, a 15 years old professionally managed Organization spearheaded by Mr. Joseph Jayakumar and Mr. Venkat Rao is an internationally acclaimed multi-faced organization having core competencies in Customized Information Technology Learning Services for Enterprises, Lateral Staffing Solutions i.e. RPO, Information Technology Consulting and Development, Infrastructure and Training Facility Management Services and Technical Content Development services. Our experienced professionals bring with them a wealth of industry relevant knowledge and operate in a manner that produces superior quality with outstanding results. AMSTAR's proven, demonstrated and tested methodologies ensurea higher client satisfaction. AMSTAR with its global network of Delivery centers, support offices and Partners has committed to render the best service to their clients. This is in vision with our Commitment to Core values of Client Satisfaction, Professionalism, Teamwork, Respect, and Integrity. Check out their website at https://amstar.in for more information.